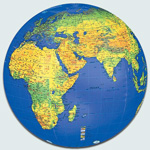 Get 'Universal Domain Name' of your own for web site.

The 'Cheapest & Dynamic Media' for information.

Entire Basic Information can be communicated without wasting your time.

Reduces number of meetings, time waste & can take you to final part of dealing.

There can be of any unlimited size, as per business / activity demands.

Easy to view, the entire Information, at a mouse click.

Updated Information & scope for 'On Line Interaction'.

Information can be enriched with unlimited Text, Voice, Music, Images.

Any person can refer to it at any time, from any part of the world.

Information is accessed only when there is a 'Requirement'.

One can take printouts of only required information.

Small address for big information, print it on your stationery.

Web Site also works as an unlimited extension of your advertisement matter.

On internet, your leading competitors & you come on the same platform.

Today, it has no better substitute.